Vi har tillfälligt flyttat samtliga teoritisdagar online till ett jitsi rum:
We've temporarily moved all Theory tuesdays online into a Jitsi room:
https://meet.jit.si/NattsvartSocial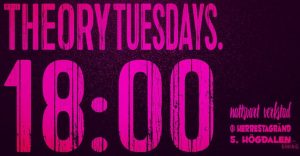 Sen några månader tillbaka ses vi varje Tisdag vid 18.00 på Nattsvart Verkstad och diskuterar aktuella (och inaktuella) ämnen som rör antiauktoritär och anarkistisk politisk teori och filosofi. Vi har tidigare samtalat om tid som koncept och som kolonialt förtrycksverktyg parallellt med vetenskaplig metod för att koka ett ägg under en exakt tidsperiod. Andra ämnen som dykt upp är mentalt välmående och tankar kring tvångsvård av självskadebeteende, tvångets natur och våld. Bland annat!
Formatet brukar funka så att alla som är med för dagen delar med sig av vad de för tillfället går och funderar på och sen tar vi det från det. Med andra ord är det organiskt strukturerat baserat på vilka som är med och vilka behov det finns vid varje tillfälle.
Hoppas vi ses där! 🏴🖤🏴
---
Eng:
Tuesdays means theory time! You are welcome to take part in the discussions and ponderings of anti-authoritarian and anarchist principles and philosophy. We've delved into the concept of time as colonial tool of oppression and as measurement tool in order to boil stuff for an exact period of time. We've also talked about mental health care, thoughts about the what and how to care for self harming persons and the nature of force and coercion. Among many other topics!
Who knows what we will discuss the next tuesday?
The way the format is set up is by everyone mentioning whatever they are thinking about currently and then taking it from there. The structure and the form of discussion is organically considered bases on who is attending and what needs are found for each specific session.
Hope to see you there! 🏴🖤🏴